Here's how it starts…
Choose a cloud provider after searching online and comparing prices. Sign up and migrate all of your data. Save lots of money, eliminate IT support personnel/contractors and be happy forever…right?
With all of the marketing hype surrounding cloud computing, a lot of people believe this fairy tale. The truth is, cloud computing has been around for decades, albeit under different names: terminal & mainframe, hosted services, VPS (virtual private server), etc. At ITS, we can help your organization navigate the troubled waters of cloud computing. Ensure your company's livelihood doesn't end up relying on servers running in someone's basement.
These graphics illustrate the DOs and DON'Ts of cloud computing.
STORMY (don't)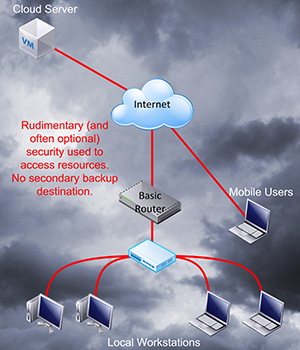 A single, underpowered cloud based server performing many functions
No local domain or security management
No centralized local storage
No redundant cloud backups
Unmanaged workstations with outdated security
A simple router
Weak, publicly-based encryption used for accessing cloud resources
Software-based, attack-susceptible firewall in cloud environment
Unregulated, minimally secure mobile user access
Overseas and/or very inexperienced, unresponsive support from the cloud provider.
In our experience, here's how most organizations without an IT advocate end up. This configuration is a recipe for disaster. There may appear to be short-term cost savings, but in the long run, it's likely that this configuration will suffer serious problems due to lack of security, support & reliability.
CLEAR (do)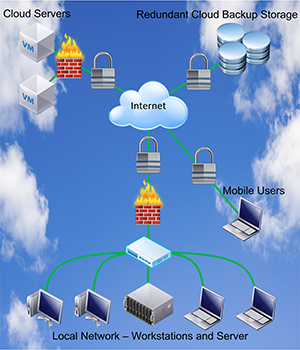 Dedicated cloud server for domain controller and cloud file storage synced to a local, lightweight Windows server acting as a local domain controller and centralized local file storage
Dedicated cloud application server to deliver applications via multiple protocols
Secondary independent vendor used for replicating cloud-to-cloud backups
Workstations and cloud servers managed by ITS
Enterprise-grade VPN firewall utilizing heavy encryption and security to access cloud resources
Mobile users supported by SSL VPN to cloud and local resources
Backed up with local support from ITS and additional support based in the USA from Tier 2 agents at the cloud provider.
An example of a properly configured cloud computing environment. ITS has deployed this configuration across varying types and sizes of business with great success.
Let us show you the ITS service difference.
What is Cloud Computing?
The term "Cloud" comes from the common use of a cloud-shaped symbol to represent the Internet
"Cloud Computing" is the use of hardware and software resources that are delivered as a service over a network – typically, the Internet.
Cloud Computing involves a remote location for servers and data storage and can be a secondary server in same city or a virtual server hosted in a data center in another part of the country.
A "Private Cloud" utilizes your hardware, software, and infrastructure, while a "Public Cloud" operates your software on a provider's hardware and infrastructure.
What Cloud Computing is not:
Fool proof – Care must be taken when selecting a Cloud service provider; simply signing up and logging in will not guarantee that your requirements will be met in a secure, cost-effective manner.
Easy to setup – Consideration must be given to a host of factors: the best configuration for your business processes, the handling of existing data, your existing and future computing requirements, etc.
Automatic 100% uptime and availability – Check the provider's qualifications and reliability before making any commitments.
Inherently Secure – Make certain that the provider is supplying the correct level of security for your business needs; avoid services that omit encryption and dedicated firewalls.
Replacement for all local servers/infrastructure – While you may decide to locate your data and major processes at remote facilities, don't neglect your local environment; make sure that you have the sufficient security and Internet connectivity to take advantage of cloud computing.
Automatically backed up – Cloud providers do not necessarily provide secure off-site backup; ask prospective vendors about their backup and recovery policies and plans and find out if there are additional fees.
How does ITS solve these problems for your organization?
We'll verify the quality of the cloud provider, including the Service Level Agreement(s), whether they have redundant facilities (such as power and Internet connectivity), the process for handling outages and failures, location of support personnel, etc.
We'll configure a VPN (Virtual Private Network) between your sites and mobile users to secure the server from unauthorized outside access
We'll work with you to establish a secondary Internet failover connection for maximum availability in case of a failure of the primary connection
We'll configure and verify cloud server backups, ensuring data is stored in multiple locations
We'll design an individualized disaster recovery plan that will allow your organization to remain operational in an unforeseen scenario
We'll determine which data/services should be moved to a cloud environment and which should remain on-premise
Remember – out of sight is not out of mind – ongoing monitoring and maintenance is still required, regardless of the location of your technology. Let us handle that for you as well!