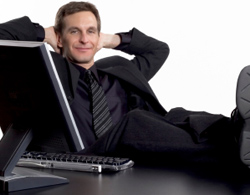 Managed Services prolongs the productive life of existing assets with intelligent proactive maintenance. It is a defined set of services that enable your technology to operate reliably and within budget.
Our Managed Information Technology (MIT) program is designed to optimize your technology investment and maximize the productivity of your people and business. It is a proactive approach to technology management that goes far beyond simple monitoring or responding to the next crisis.
In the traditional environment, customer downtime produces more income for the service provider. Experience the advantages of the ITS MIT program, where proactive maintenance enables customer uptime and productivity, resulting in a mutually rewarding relationship.
By maximizing the benefits of technology, routine maintenance functions can be automated and scheduled to ensure that all tasks are completed and reported consistently, without fail. At the same time, valuable data is gathered to identify trends and patterns which can be used to plan system changes or enhancements. This reduces the impact on your business.
Implementing a holistic technology plan such as ITS MIT allows for predictable expenditures. Instead of unexpected service interruptions and repair costs, why not improve your system's reliability while keeping your technology investment within budget?
Remember – the cost of a single unexpected technology failure can exponentially exceed the monthly investment in ITS MIT.
Of businesses that experience a catastrophic data loss, 43% never reopen and 51% close within two years. Your organization's risk profile is significantly higher with unmanaged technology due to outdated software, missing security updates and malware.
ITS Group has a documented history of integrity, excellent service, and reliability; our experts average 20 years of IT-related experience. Ask our clients how we have revolutionized their technology experience!